Maria Sandoval, the Lab Director at Trace Analytics, hosted a webinar for the ISBT (International Society of Beverage Technology) BevTech 2021 Event on compressed air contamination. The presentation outlined why standardization is important, broke down the parts of ISO 8573, detailed the ways that various contaminants enter the compressed air system, and how to avoid beverage contamination.
Why does compressed air quality matter for beverage manufacturers? It touches many products from beer to soda and bottled water at a manufacturing facility. Standardization in compressed air is important because diverse standards can be complex and confusing. ISO 8573 is an international compressed air standard that offers a variety of classes to choose from so each facility can choose the one that best fits their needs.
ISO 8573–9 Sections
Contaminants and Purity Classes
Oil Aerosol
Humidity/Water Vapor
Particles
Oil Vapor
Gases
Micro
Particles by mass
Liquid Water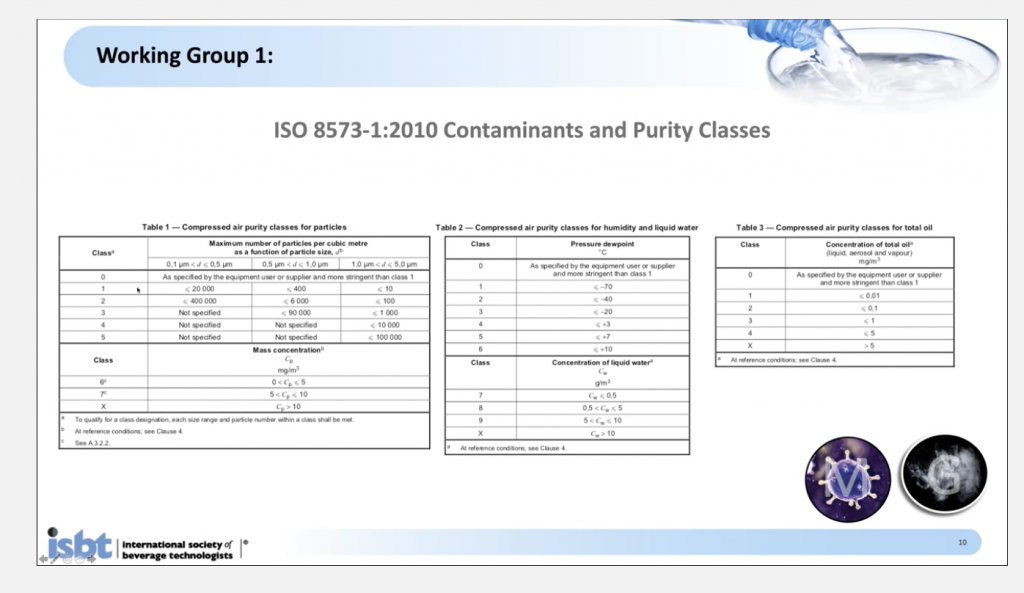 Choosing a Testing Method
Common concerns include meeting proper manufacturing quality requirements and staying within specified company budgets. To determine the best method for your facility, follow these steps:
Conduct a risk assessment – every point of contact should be assessed
Decide on purity class (P:W:O)
Choose method of testing
Trend analysis
Compressed Air Contamination – ISBT
Unhealthy systems with ineffective filters or leaks can reduce the purity of gas and introduce contaminants like volatile hydrocarbons, water, oil, or particles. Leaks can lead to lower purity levels or contamination because they create a vacuum which brings in atmospheric air containing oxygen, moisture, and hydrocarbons (Kandl, 2005).

Particles
Unhealthy systems may also contain viable particles in addition to the non-viable particles caused by rusted pipes or shedding tubes.How to determine particle content:
Analytical weight by mass concentration (Class 6-X)
Light Optical Microscopy (Class 3-5*)
Optical particle sizing and counting instrumentation LPC (Class 0-5)
Scanning Electron Microscopy (Class 0-5)
Water
Excessive water vapor and liquid water can cause catastrophic failure to compressor systems and filtration devices.How to determine water content:
Oil
A slight amount of hydrocarbon contamination in a fitting is enough to produce unacceptably high levels of oil vapor.How to determine oil content:
Charcoal Tubes – oil vapor
Filter Membrane – oil aerosol
Gaseous Contaminants
Gaseous contaminants can affect product taste and quality – especially in beverage facilities. ISO 8573 doesn't have any specific regulations so facilities must rely on local regulations for guidance. How to determine gaseous content:
Microorganisms
Microorganisms thrive in harsh conditions like compressed air systems – especially when oil or water is present. Aseptic technique is highly important when your SOP says that you must test for viable particles. ISO 8573-7 doesn't currently have any specifications for microorganisms however, they are vital for beverage manufacturers to test for.
Facilities may find anaerobes in their compressed air systems – these are microorganisms that grow without oxygen and are often the cause of costly recalls. How to determine microorganism content:
Impaction samplers
Settle/contact plates
Surface swabs
Standardization allows for universal understanding and unity of requirements for beverage manufacturers. ISO 8573 is the international standard for compressed air monitoring and is applicable to particles, water, oil, microorganisms and most pure gas tests. Advancements in technology have made sampling compressed air quick and easy so technicians will need minimal training before taking samples.