The Safe Quality Food Institute (SQF) has established reliable food safety management systems for manufacturers to adhere to with the protection of consumers in mind. Complying with these standards helps ensure product quality and helps to protect the reputations of food and beverage manufacturers. Compressed air requirements are outlined by Safe Quality Food in Edition 9.
Achieving Compressed Air Quality for Safe Quality Food Requirements
A monitoring plan and regular testing are essential for meeting food safety standards to achieve quality compressed air.
Ensuring that your compressor system consistently delivers clean, compressed air requires the following:
Service Monitoring – Make sure your equipment is serviced correctly and regularly
Testing – Verify that your equipment is installed properly and continues to function at the required quality levels
Documentation – Keep track of installed equipment, maintenance changes, and testing results
Establishing an Effective Monitoring Plan
Each facility is subject to various hazards and risks that should be considered when creating a monitoring plan. A risk assessment is the best way to understand these unique needs and can be instrumental in designing an effective monitoring plan.
Safe Quality Food Ed 9 Requirements for Compressed Air Systems
SQF offers the following guidance and recommendations regarding compressed air quality and testing in the manufacturing process:
11.5.5.2 – "Compressed air and other gases must be clean and regularly monitored."
12.5.3.1 – "A system shall be in place to monitor the purity of filtered air."
For more information on the SQF Code, click here.
It's important that the quality of your air remains in a state of control throughout the entire year and not just when it's time to test. This will ensure the efficiency and safety of your compressed air system.
Consider Which Monitoring Plan is Right For You
Your monitoring plan should be based on a routine testing schedule for your compressed air analyses. The quantity of samples you take will depend on your industry requirements and specific goals.
Determine your sampling frequency based on the following frequency options:
Percentage-based – Points-of-use are tested at different percentage levels
Maintenance – Samples are taken based on a maintenance schedule (i.e. sampling before changing filters on a worst-case scenario basis)
Minimal – Samples are taken as close to your main filtration as possible, at the furthest end of your line after point-of-use filtration, and one somewhere in the middle. This helps determine if there's a difference in the quality down the line
Single – Only one sample is taken to satisfy minimum requirements, providing minimal data
Depending on your risk assessment and trend analysis requirements, you can choose to test yearly, semi-annually, or quarterly.
The quality of your compressed air may vary due to seasonal changes or maintenance schedules. Quarterly or bi-annual testing allows for a trend analysis which can help facilities understand how their quality levels may fluctuate.
ISO 8573 Packages to Meet Your Needs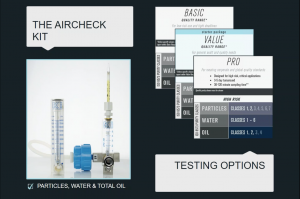 Our ISO 8573 packages test for particles, water, and oil to meet designated purity classes.
Basic – For customers only wanting a quick turnaround and basic analyses
Value – Mid-range of ISO – 8573 purity classes
Pro – Takes all 4 ranges of ISO purity
Trace Analytics, LLC can help you satisfy the minimum microbial testing requirements for SQF. Trace offers Total Plate Count (TPC), Total Fungal Count (TFC), Gram staining, and Chromogenic Identification. The Pinocchio Super II sampler is designed to connect to your pressurized lines and collect a compressed air sample. Analyses can be performed for bacteria, mold, and yeast. A further analysis can be conducted to determine the type of bacteria.
An ISO 17025 accredited laboratory is required for external testing. Trace Analytics, LLC can provide you with a detailed certificate of analysis that reports all results as per your specifications. Meeting your Safe Quality Food compressed air testing requirements is easy with the experts at Trace.
Trace Analytics' AirCheck Academy is a comprehensive online resource that provides you with the tools needed to understand everything you need to know about achieving safe compressed air at the highest standard. Once you take the required exam and get a score of 100%, you will receive a certificate that shows you or your service provider is qualified to conduct compressed air testing.
Testing with Trace Analytics
Using an accredited laboratory ensures the reliability of your results. Trace Analytics is ISO 17025 accredited. Testing with Trace is simple and provides you with accurate and precise results.
Regularly testing your compressed air to maintain the safety and quality of your end-products is vital for your consumers, producers, and brand reputation. By following the criteria necessary to meet SQF requirements, you can ensure your compressed air is at the highest standard.
Need to meet SQF Requirements for ambient air testing? Trace Analytics, LLC is a one-stop-shop for your testing needs. Learn more here.
See the original webinar on AirBestPractices.com.