This September, Trace Analytics had the privilege of taking part in the inaugural Air Best Practices Conference and EXPO. The creators of Best Practices magazine brought together over 750 compressed air industry leaders and experts from around the world share knowledge and insights with the people who make industrial utility projects happen. Attendees ranged from production managers, to plant engineers, to compressor manufacturers, and maintenance managers.
It was an amazing opportunity to network and discuss updates in the manufacturing industry. Thanks to everyone who stopped by our booth to say "Hello" to the AirCheck team. It was a pleasure to meet you and learn more about your compressed air usage.
Compressed Air Panel of Experts
We were honored to take part in a compressed air panel discussion on Monday morning titled, "Compressed Air Quality Specification and Compliance". Chaired by Phil Kruger, Harris Equipment Vice President, this 2-hour Session featured presentations by Phil Kruger, Ruby Ochoa (Trace Analytics), LeAnn Chuboff (Safe Quality Foods Institute) and Joe Fecko (BEKO Technologies).
Phil Kruger stressed the importance of using ISO 8573 to ensure compliant compressed air systems, "Say what you do, do what you say, and then prove it." LeAnn Chuboff explained the importance of communication between manufacturers and SQF for continued food safety and improved codes. Joe Fecko detailed the importance of testing for Dewpoint and Oil content.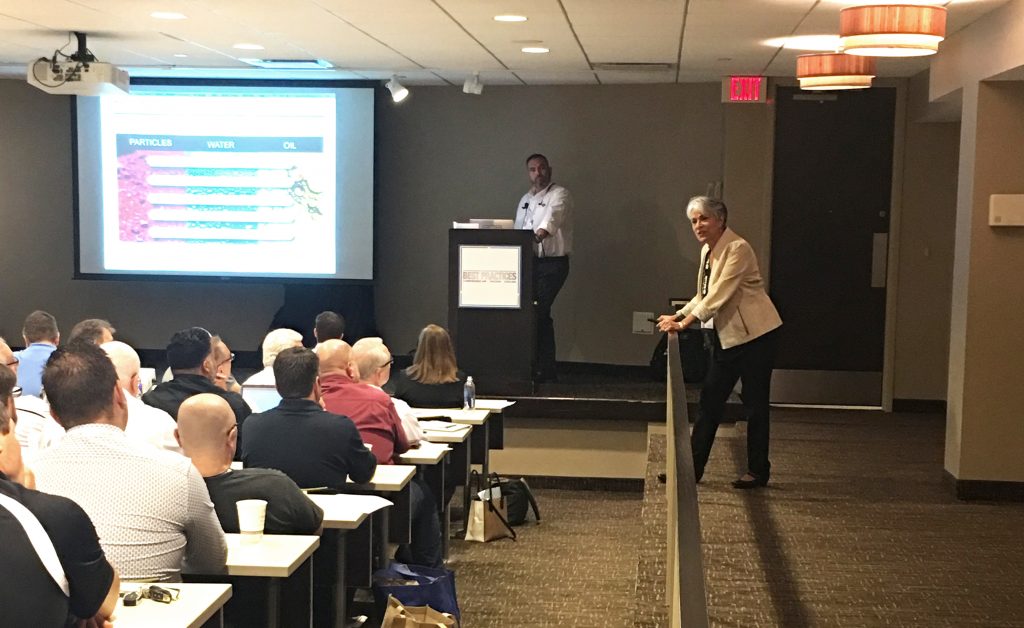 Trace Analytics' founder, Ruby Ochoa, spoke about testing, monitoring and documenting procedures for air quality. Ruby explained that compressed air testing is necessary for product quality, product appearance, equipment performance, to prevent recalls and guard against microbial growth. Additionally, she explained that different products face different risks and therefore must adhere to different ISO 8573 Purity Classes. A risk assessment and monitoring plan is a good way to ensure compliance and product safety. Download the presentation slides here.
We'd like to give a huge thanks to Rod Smith and his team for making this awesome event happen. A particular shoutout and thank you to Clare Lamperski for her seamless organization and flawless event execution.
Trace Analytics, LLC is an A2LA accredited laboratory that complies with ISO 17025 standards and specializes in compressed air testing. For over 29 years, we've upheld the highest industry standards of health and safety. For more information or to talk to us about becoming an AirCheck Distributor, contact our dedicated team of experts at sales@www.airchecklab.com